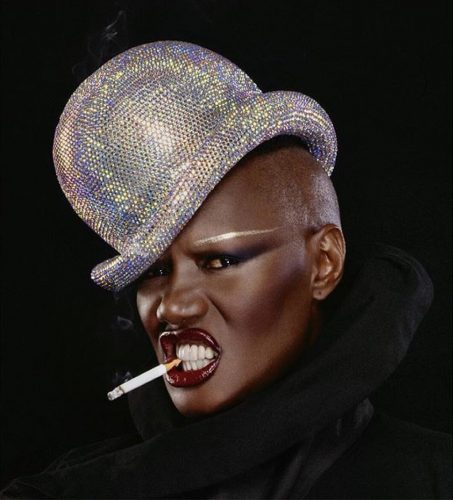 Hats off to Grace and Naomi – 29th April 2020
At the start of my lighting design career aged seventeen I joined an amateur theatre, The Preston Playhouse, and was allowed to light the pantomime with our limited rig, four Furse fixtures FOH and ten Junior 8 wire wound slider dimmers.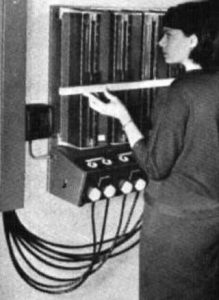 I remember we had pieces of wood around six feet long with notches in them which we used to push up or down the selective faders, each length of wood had the Act and Scene number written on them.
Someone very kindly donated a two preset ten channel Thorn electronic lighting desk which I connected to my home-made thyristor dimmers. The previous owner had passed the desk on as the two preset masters had worn out, so we had to make ten inch balsa versions of our dimmer slider sticks, progress indeed!
This story is really about reviews of my efforts, both good and bad. I got my first review for that Pantomime in the Lancashire Evening Post "Atrociously lit by Durham Marenghi".
A few year's later in life in 1979 I got my first review in the National press for Michael Bogdanov's Tale of the Ancient Mariner at the Young Vic theatre where I was Chief LX/Resident LD.
"The first of The Durham Marenghi's apocalypse like light changes" wrote The Times theatre critic Irving Wardle, my Mother commented that the capital T was most likely a spelling mistake, thanks Mum.
Several years later and amongst some great reviews was this not so positive comment on the West End musical 'Romeo and Juliet' in 2002 "Every so often, courtesy of Durham Marenghi's lighting, the stage simply goes dark, as if to suggest that someone in Verona forgot to pay the electricity bill."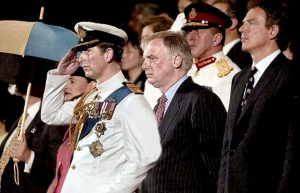 When I lit the Hong Kong handover ceremony in 1997 we played outgoing Governor Chris Patten's favourite piece 'Nimrod' and as he Tony Blair and Prince Charles stood in the pouring rain he was quite clearly visibly upset so I quite innocently and naively called the follow-spots to fade out.
"Durham what the Bloody Hell are you doing" was the reaction from our Broadcast director and he insisted that the lights were brought back on. He was quite right of course, it was up to him to cut away if he felt the need, not for me to blackout what I considered to be a very intrusive moment.
(Aside from this picture of Chris Patten, Prince Charles and Tony Blair photos in this story are indicative and were not taken at the time).
Next day a picture of a tearful Chris Patten was published on the front page of the Daily Telegraph with this caption. "Governor Chris Patten caught in the cruel spotlight of British lighting designer Durham Marenghi". You can't win!
So this story relates a tale of one of my best ever reviews over the pond. In 1999 I was invited by Royal milliner Philip Treacy to light his catwalk show at the New York Fashion Week.; the previous year I had been introduced to Philip and lit his runway show at London Fashion week.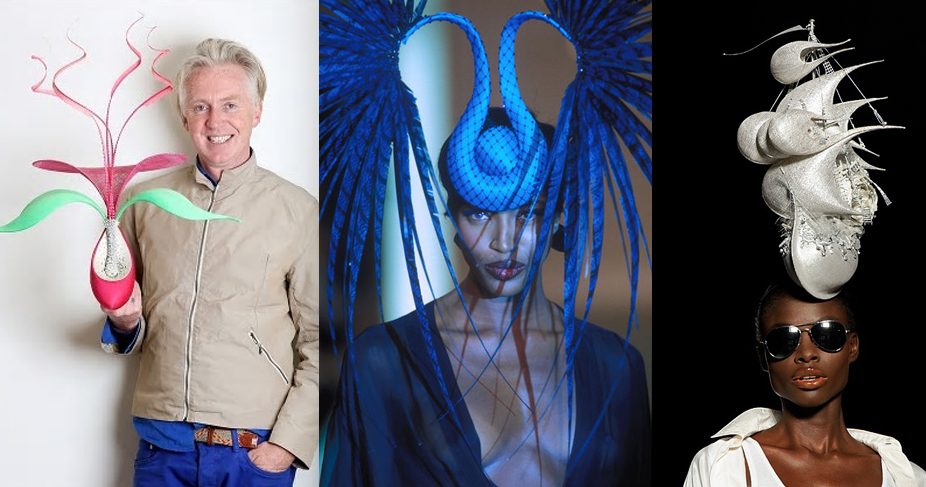 Philip had showed me his favourite photograph of one of his hats and explained that he had tried with various lighting designers to recreate the image which seemed to show the model being up lit.
After studying the image I realised that it was actually a very strong top light which was bouncing off the floor with the reflected light causing the effect he so admired.
So in London Philip was very happy when we rigged a powerful beam light at the end of the catwalk which worked perfectly when the model stood directly beneath it.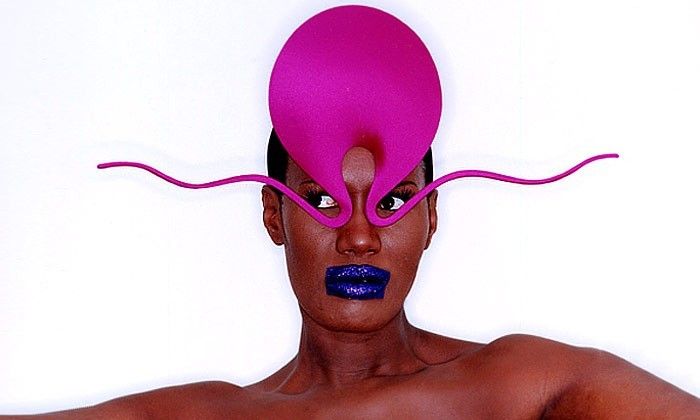 Now catwalk models can walk to very accurate times and placing so whether it was the fact that the light was too hot for them, it was pretty intense or just collective memory failure but they rarely hit the lighting sweet spot.
This reminds me of my lighting of Andrew Lloyd Webbers 50th Birthday celebration at the Royal Albert Hall. Michael Ball was to sing Gethsemane from Jesus Christ Superstar and I came up with the idea of rigging a searchlight in the roof corona of the hall to 'nail' him to the stage with an intense beam of light.
The sound design team had a huge curved PA hung above the stage and they promised to leave enough of a gap in the centre of their PA to allow the light beam through.
Once again sound and light were not in perfect harmony and we had to move the searchlight to hang off one of the sound array mother trusses around thirty feet from Michael's head rather than the planned one hundred and ten.
During the dress rehearsal, and as he was of course bang on his mark, Michael stopped the orchestra and got our conductor to go and stand with him in the beam to let him feel what he was having to contend with!
The effect looked great on TV though even when we dialed it down a bit and I have put a link to the Gethsemane film clip at the end of the story, you can just about see the steam rising off his head.
Anyway back to our planning for New York Fashion week which was to feature two good friends and rivals Grace Jones and Naomi Campbell. Both of these ladies are pretty wild and unpredictable, in those days there were no two people on the planet more fun to go out clubbing with.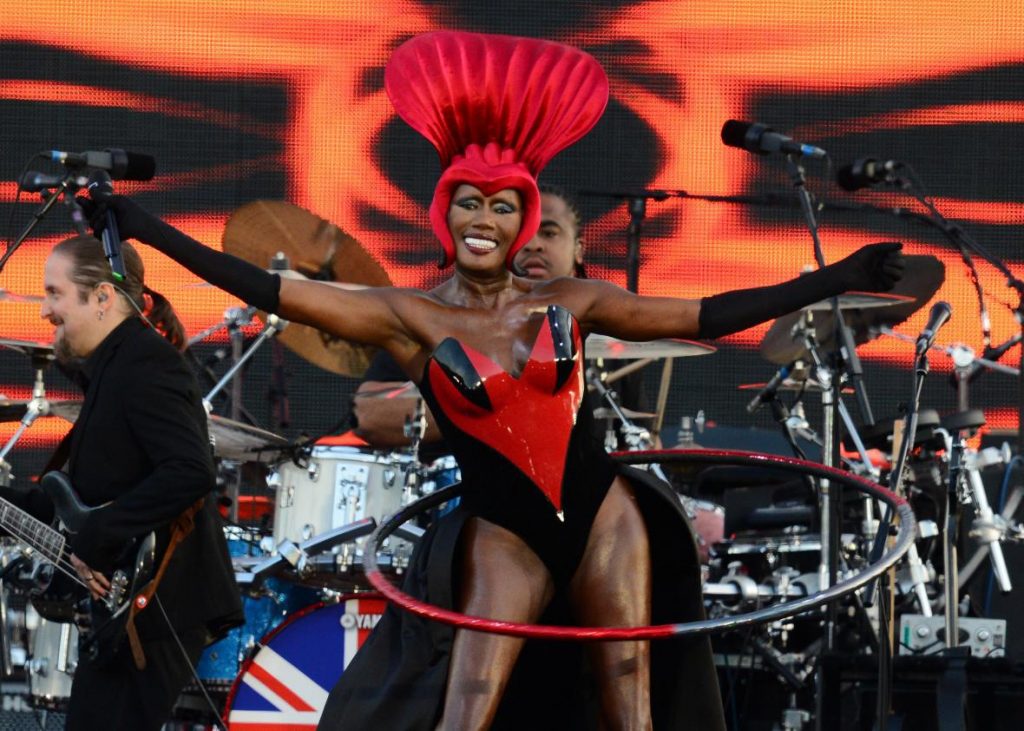 Years later after having worked with Grace and Philip several times I was delighted to meet up again on the stage of the Diamond Jubilee Concert in 2012. Grace was standing with several of the BBC executive when she spotted me crossing the stage with a Union Jack Sharpy in my arms.
"Durham darling" she pouted, "I want you to make my face look completely smooth and beautiful and my thighs to glisten in the light!"
"Grace I've told you before" I replied, "I'm a lighting designer not a plastic surgeon."
The look on the execs faces was a picture as they waited for Grace's reaction….. Which I recall was a punch to the shoulder and a great big grin; I felt that blow for days afterwards and she did look great for a sixty four year old, hula hoop and all!
So back to New York and Grace and Naomi's high spirits meant that there was a real risk that no matter what their professionalism they might not hit their mark for the downlight beam at the end of the show so I came up with a staging trick that could not fail.
For the closing sequence at the end of the catwalk below our beam light we would place a small vertical circular stair case, it was only around three feet high but it would mean that the model had no chance to be in the wrong place so long as the staircase was placed in the right position, which it was.
The floor of the staircase was a highly reflective white gloss to give Philip his uplit effect as well.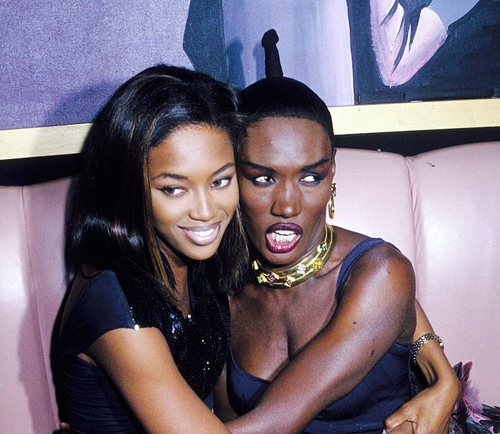 As I remember it the penultimate model was Grace Jones and she would be replaced on my staircase by Naomi with the final hat. As Grace preened and posed in our perfect downlight Naomi approached and it became apparent that Grace had no intention of giving up her lofty position to her great friend and rival.
As the pretend 'cat fight' began to move in a very inappropriate direction in front of the World's keenest paps I blacked them both out in the hope this would settle things down. The cameras snapped wildly and the next day I got this notable review on The New York Times front page.
"Grace Jones and Naomi Campbell at last Night's Philip Treacy fashion event seen here in the amazing stroboscopic lighting of lighting designer Durham Marenghi"!
With all my faders at zero the pap's camera flashes had provided me with one of my favourite ever reviews. When I explained the next day to Philip and his production team what had happened the producer said "well Durham if you actually did not have any lights on does that mean we still have to pay you?" Cheeky bugger!
Michael Ball sings Gethsemane in his own personal downlight – stay safe.