The ceremony had many symbolic indications that expressed welcome, generosity and hospitality in Arab culture, as well as contemporary musical, cultural and visual performances that were used for the first time in the tournament.

Under a 'Tent' decoration that represents the Earth in a message to invite the world to meet and unite the ceremony, which lasted for about 30 minutes, was dominated by Gulf and Arab heritage. The opening shot included a quote from the Holy Quran, it is verse 13 of Surat Al-Hujurat. "O mankind, indeed We have created you from male and female and made you peoples and tribes that you may know one another. Indeed, the most noble of you in the sight of Allah is the most righteous of you".

Calling for acceptance of difference and diversity among human beings, within a framework of peace and love, it was delivered by the young Qatari Ghanem Al-Muftah accompanied by the American artist Morgan Freeman. Ghanim was born with a rare condition known as Caudal Regression Syndrome (CDS). However, rather than allowing the condition to stunt his life, he has learned to overcome his obstacles and is an exceptional and inspiring character.

The ceremony included 7 scenes that merged the Qatari and international cultures, showing the country's culture and values, the importance of respecting one another, and the need to change any misconceptions about the Arab World.

The first scene was called "The Calling" and it showed the sound of "El-Hoon", which is associated with receiving guests. This was followed by the "To Get to Know" scene, in which the artist Morgan Freeman participated with the young Ghanem Al-Muftah, to represent rapprochement through dialogue.

Then the "Rhythm of Nations" scene which collects the most famous cheers of encouragement for the 32 participating teams combined with Qatari music. This was followed by the "Football Nostalgia" scene which collects former official mascots in honour of the previous host countries of the World Cup.

The "Dreamers" scene along with the previous songs "Welcome", "Haya Haya" and "Qandil Al-Sama" was performed by Qatari artist Fahad Al-Kubaisi and a member of the Korean band BTS, Jungkook. Then the "Roots of the Dream" scene which showed an archival historical film, shown for the first time, showing the former Emir, Sheikh Hamad bin Khalifa Al Thani, playing football with a group of his friends in the desert.

Finally the "Here and Now" scene which began with a speech by the Emir of the State of Qatar, Sheikh Tamim bin Hamad Al Thani and ended with the appearance of the official logo of the FIFA World Cup Qatar 2022 at a height of 15 meters, and ended with a spectacular fireworks display.

All photos courtesy of Balich Wonder Studio

Enjoy the show…

Opening Ceremony Credits:

Marco Balich – Executive Creative Director
Anghela Alo – Artistic Director
Florian Wieder – Production Designer
Durham Marenghi – Light Designer
Christophe Berthonneau- Pyro Designer
Luke Halls Studio – Content Creation
Dimitra Kritikidi – Live Action Director
Ahmed Albaker – Co Artistic Director
Michael Curry – Props Art Direction
Russell Thomas – Broadcast Director
Katara Studio & Red One – Music Producers
Nicolas Vaudelet – Costume Designer
Laccio – Director Choreographer
Lead lighting programmer – Andy Voller
Stadium lighting programmer – Pedro Marce Socias
Followspot captain – Alex Silvester
Lighting team manager – Jennie Marenghi
Lighting equipment supplier – MediaPro
Lasers supplied by ER Productions and programmed by Ben Couch.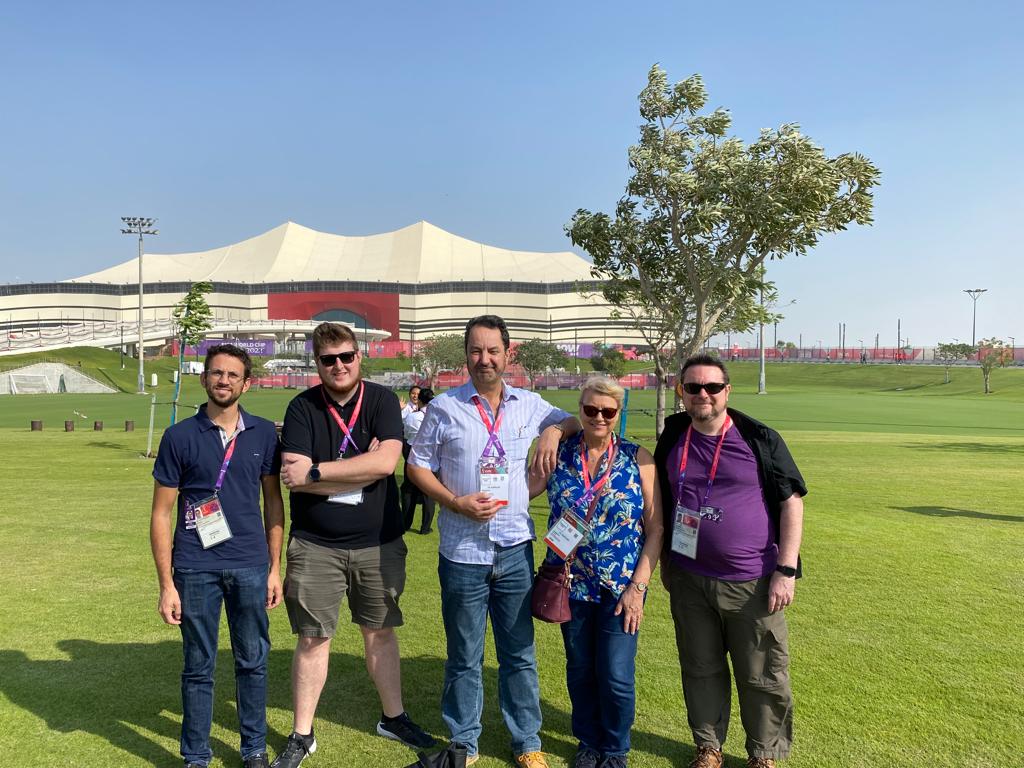 Lighting Specification Opening Ceremony – Doha Al Bayt stadium
Roof trusses (x20)
60 x Claypaky Sharpy X-Frame
40 x Claypaky Xtylos
40 x SGM P-10 19 degree
80 x Claypaky Sharpys
Flown Decks
50 x Ayrton Cobra
8 x ER Kinekt Lasers
Central Flying Truss
20 x Robe Mega Pointe
Stadium rear seating
8 x 4k Xenon followspots
4 x Robe Robin BMFL Followspot LT
Across two West projection positions
16 x Claypaky Sharpy X-Frame on Goal posts
Across two East projection positions
28 x Krypton Goodboys
Side Stages
18 x Claypaky Tambora LED Linear 100 + ND Filters
18 x 1m Krypton RGBW LED battens
6 x ER AT30 Lasers
Centre Stage
9 x Claypaky Tambora LED Linear 100 + ND Filters
5 x 1m Krypton RGBW LED battens
2 x ER AT30 Lasers
FOP Goal Posts
24 x Robe Mega Pointe
Drum Trucks
8 x ER AT30 Lasers
Control
2 x GrandMA 2 Full size + 2 x Full size back up + interface to stadium LED control.
2 x WYSIWYG systems
Lighting programming extra lights
Too many sodding sodium grow lights!