The most-watched overseas Olympic Games in history, setting new records for television and online streaming audiences in both the USA and UK, the Games of the XXXI Olympiad in Rio de Janeiro kicked off on August 5 2016 to a world-wide television audience of some three billion with the opening ceremony staged in Maracanã Stadium. That the show was produced on a budget estimated at only one-third of that reportedly spent on the opening ceremony at the London Games four years ago is a testament to the ingenuity of the show's creators, producers and technicians.
In its themes and by its modest scale, the creative directors Fernando Meirelles, Andrucha Waddington, and Daniela Thomas, who also served as the production designer, crafted a message to the world that the time has come to curtail the conspicuous and ostentatious consumption of precious resources.
"We want to change some paradigms of the Olympic ceremonies," they said in a joint statement. "We replaced the high-tech approach, the dependence on major electronic and mechatronic effects with an analog inventiveness, making the most of the low-tech spirit, the richness of Brazilian popular culture and the energy and passion of thousands of volunteers."
As is customary in Olympic opening ceremonies, the entrance of the athletes was preceded by a spectacular production designed to showcase the host country's geography, history, and cultural achievements. Throughout the ten segments comprising this portion of the event, the staging was accomplished largely through a stunning interplay of lighting and projection, the relatively few physical set pieces being reserved mostly for the concluding segments highlighting Brazil's contributions to popular culture.
The video projections created under the direction of Fabião Soares, co-founder and creative lead at Oito Zero Oito in São Paulo, continually transformed the field of play into a variety of fascinating vistas, both abstract and literal, during the first hour of the ceremony. All the while, the brilliant, dazzling hues from the palette of the lighting designer Durham Marenghi created a spectacular chromatic choreography of its own.
Marco Balich, the executive producer of Rio 2016 Olympic Ceremonies produced by CC2016, whose credits as executive producer include the opening ceremonies for the Torino 2006 and Sochi 2014 Winter Games as well as Rio, acknowledged Rio as the most challenging show he has ever produced, "not only because of the complexity of a nation not in its best moment, but specifically because we had physical challenges with the roof and the entrances."
"It was a beautiful collaboration between projection and lighting," Balich notes. "The lighting did not kill the projection at any time and the projection supported the lighting in those parts of the show where we didn't have enough lighting. The combination of lighting and projection was the best in my experience of the 17 ceremonies that I have produced. And we delivered some very beautiful broadcast images despite not having the largest number of lights. The show was very theatrical in terms of lighting—not lighting to entertain the eye, but lighting that's a theatrical statement, lighting to light the action."
Extract from article in Lighting and Sound America by Alan Hardiman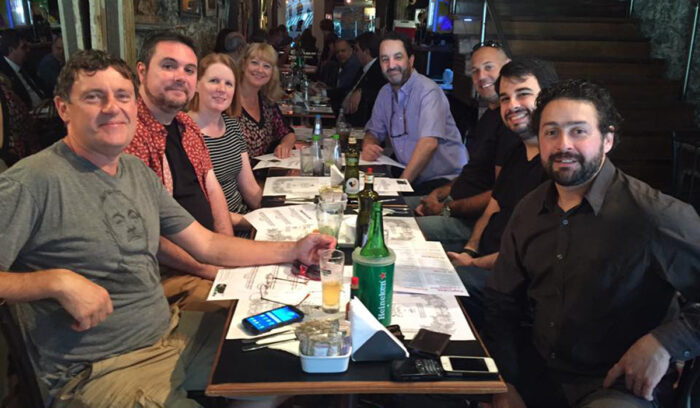 Clockwise around the table
TV Lighting Director: Nick Collier
Lead Lighting Programmer: Andy Voller
Follow spot Captain: Chris Henry
Lighting Team Manager: Jennie Marenghi
Lighting Designer: Durham Marenghi
Lighting Programmer: Ross Williams
Lighting Programmer: Paulinho Lebrão
Associate LD: Joyce Drummond
Photos courtesy of Cerimônias Cariocas